The weekend of September 23rd and 24th in Toronto was an unusual scorcher, considering this time of year we are usually getting into our fall jackets and drinking hot pumpkin spice lattes.
With it being sunny and 30 degrees, the Queen West Art Crawl in Trinity-Bellwoods Park was packed with people. This annual juried outdoor art exhibition features live music, food vendors and best of all, artworks on display by 200 artists.
Being an artist myself who participates in art exhibitions like these, I never really get the chance to view other artists' work while at my booth, so I took this opportunity to be on the viewers' side for a change!
While walking around, I was very impressed by the quality of work and enthused to be introduced to many new artists. A strong community is built within these art exhibitions, a community I am so proud to be a part of. I am delighted to share with you my 3 favorite artists from the show. You will see why I chose these artists when you take a look at my art practice.
I know what type of art I love and what I am attracted to, which is thought-provoking, surreal, clever and narrative artwork. So without further ado, here are my top 3 picks from the 2017 Queen West Art Crawl.
TOP 3 ARTISTS:
1. TAKASHI HILFERINK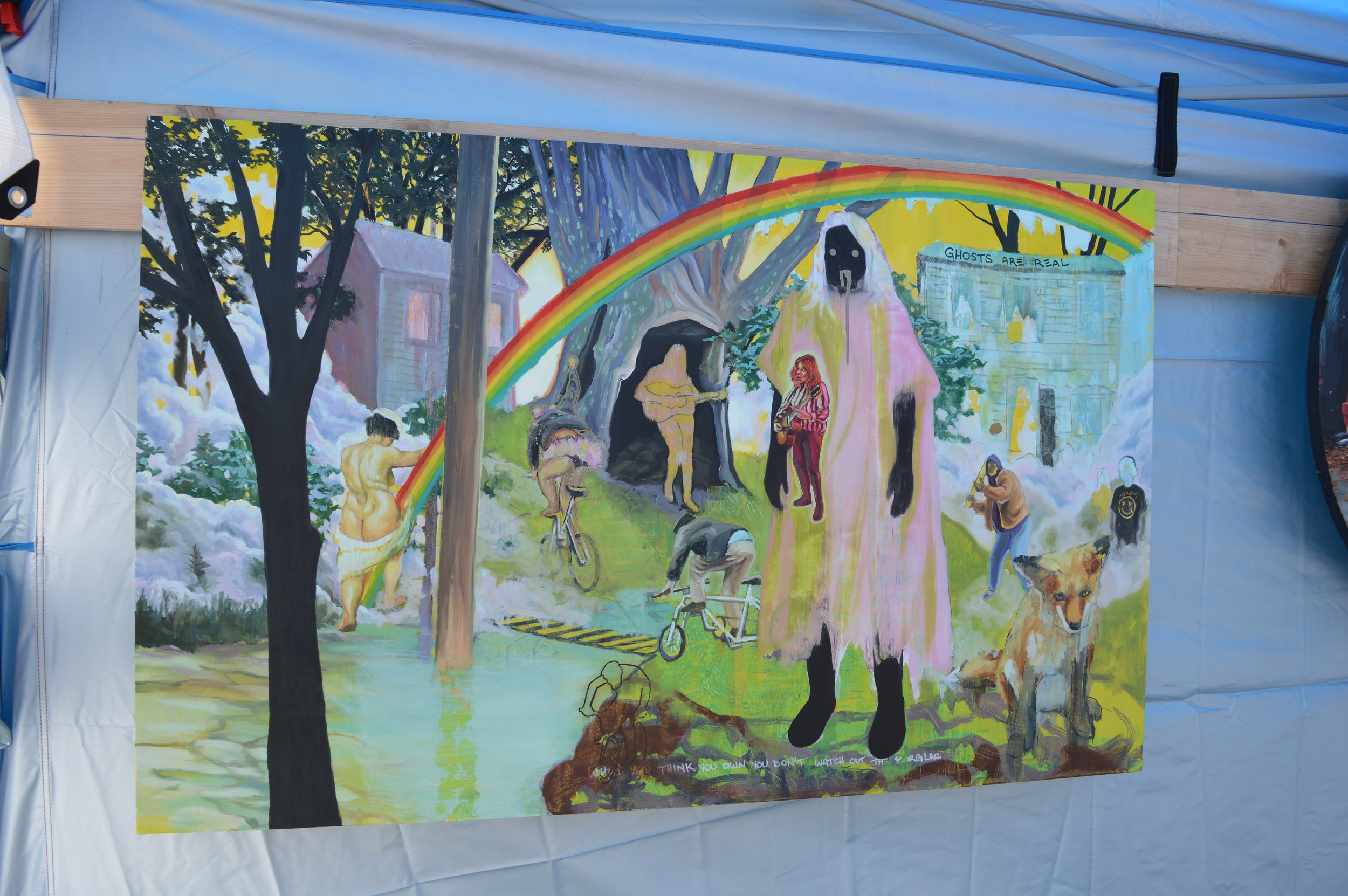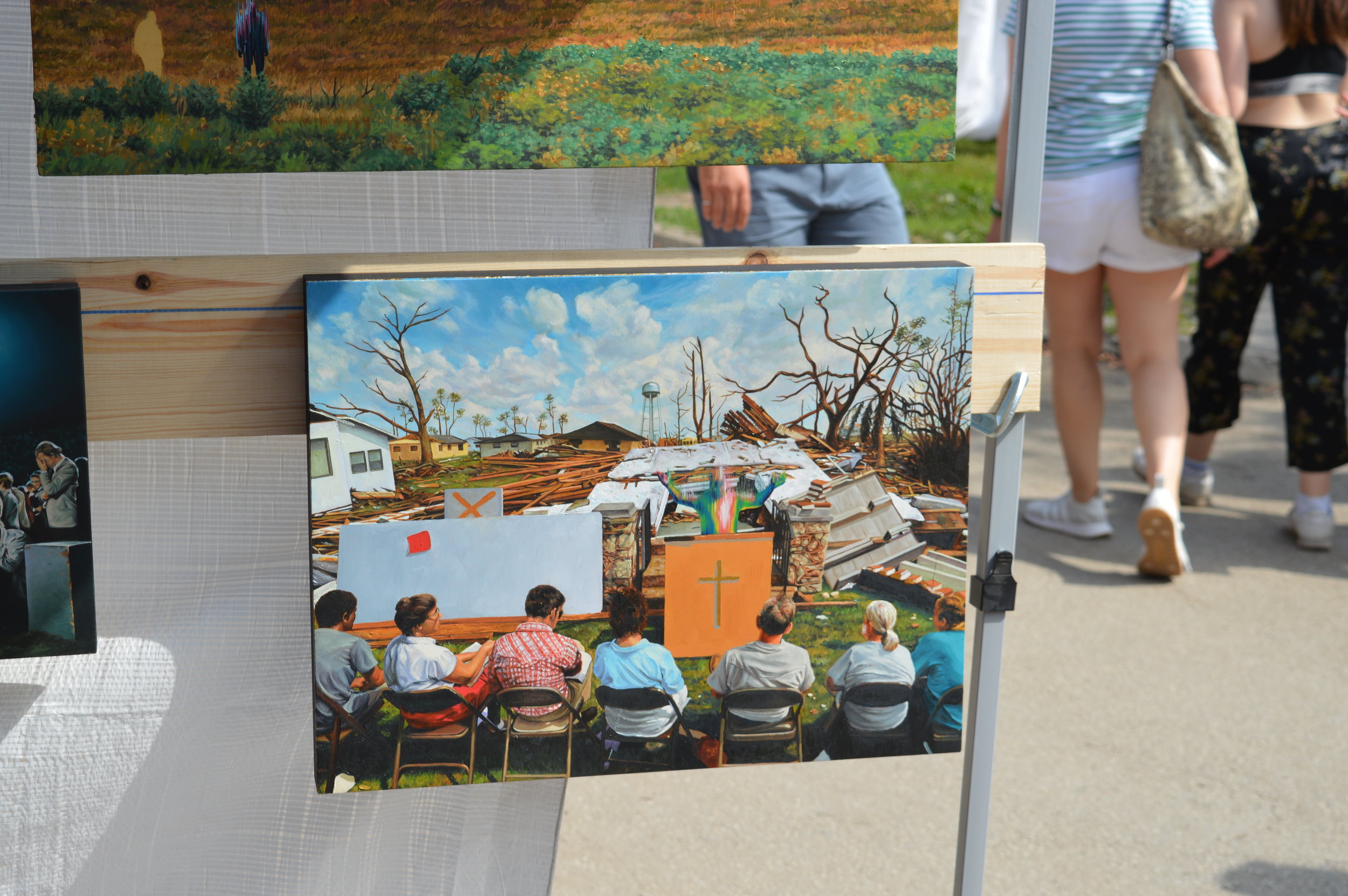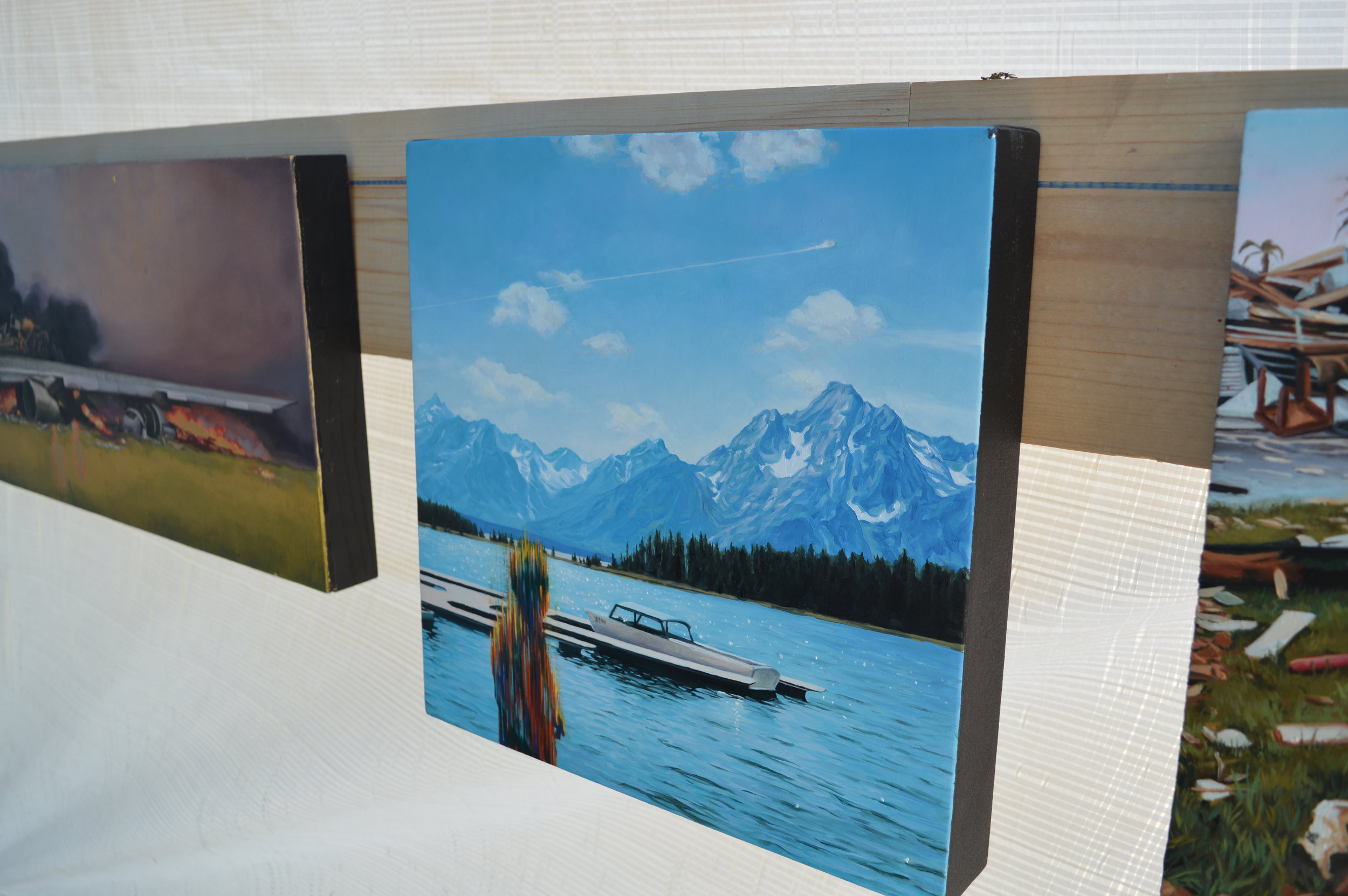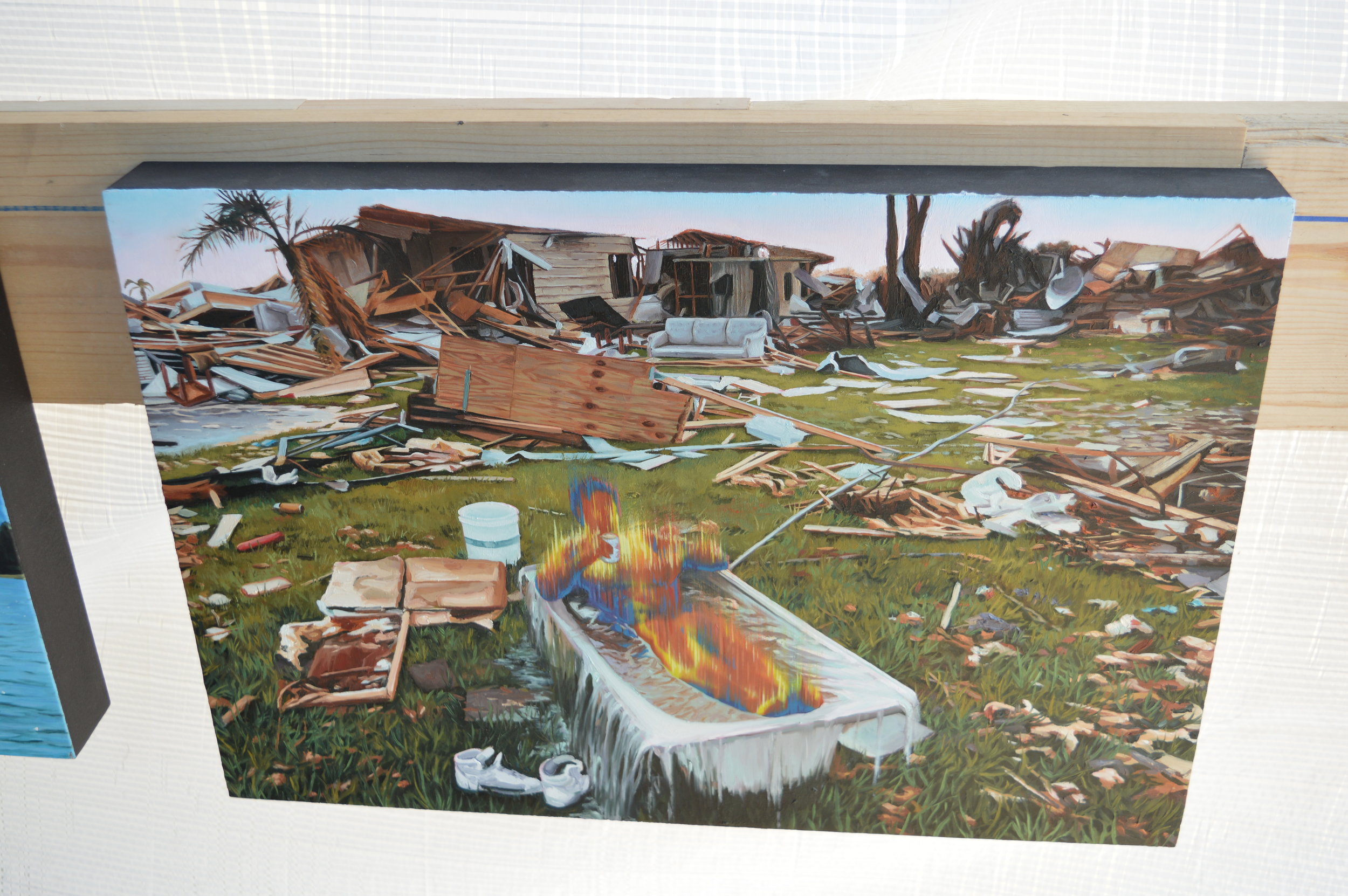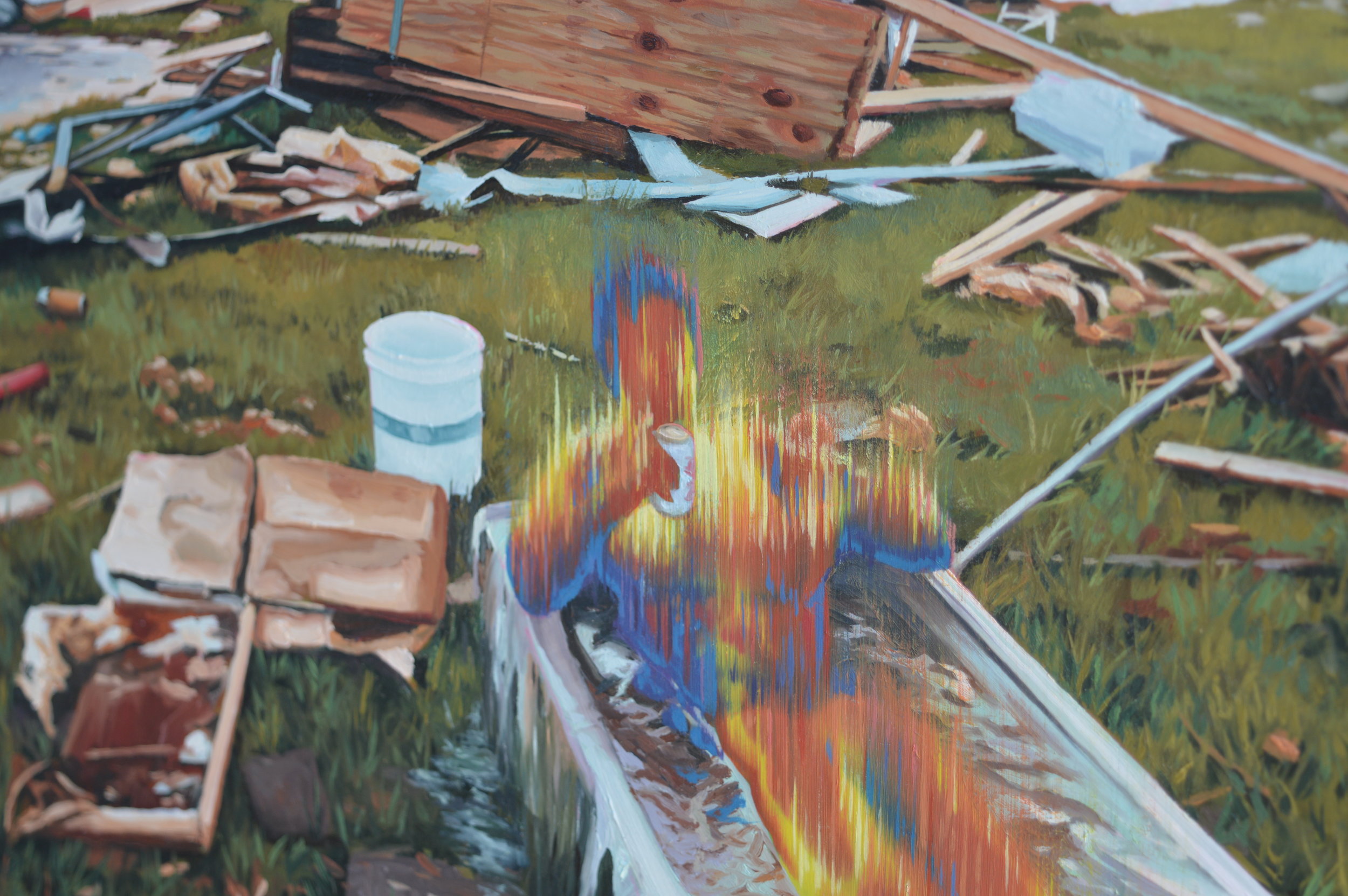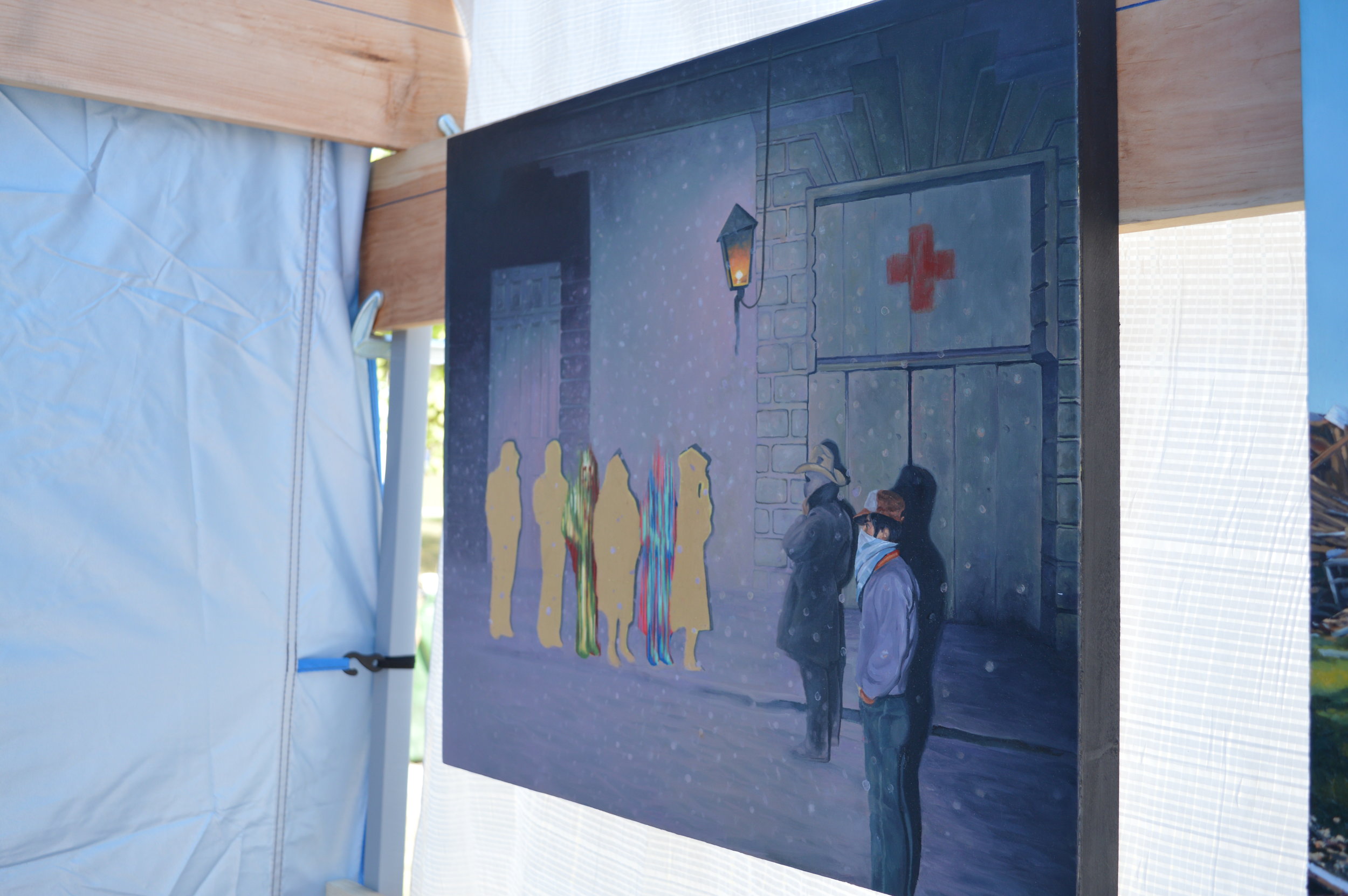 These were the first artworks that immediately grabbed my attention. Hilferink creates his paintings with acrylic and oil paints on gold or silver metal leaf that contain visual narratives that command the viewers' attention and patience. His series Humane Sacrifice presents colourful silhouettes of individuals in beautifully destroyed landscapes.
These surreal paintings encourage one to engage and think about his artistic choices. They are so technically exquisite and rendered so realistically, which enables the viewer to really enter the narrative and personify with the faceless colourful silhouettes. What I love most about his work is that it promotes one to think of the destructive realities in our world without actually painting an event seen in reality. Instead, much like me, he confronts these issues with a world that confronts our truest fears – the dream world.
Check out more: http://www.takashi-hilferink.com/
2. RICHARD AHNERT
Let's face it…everyone loves animals and I can not help but love these work.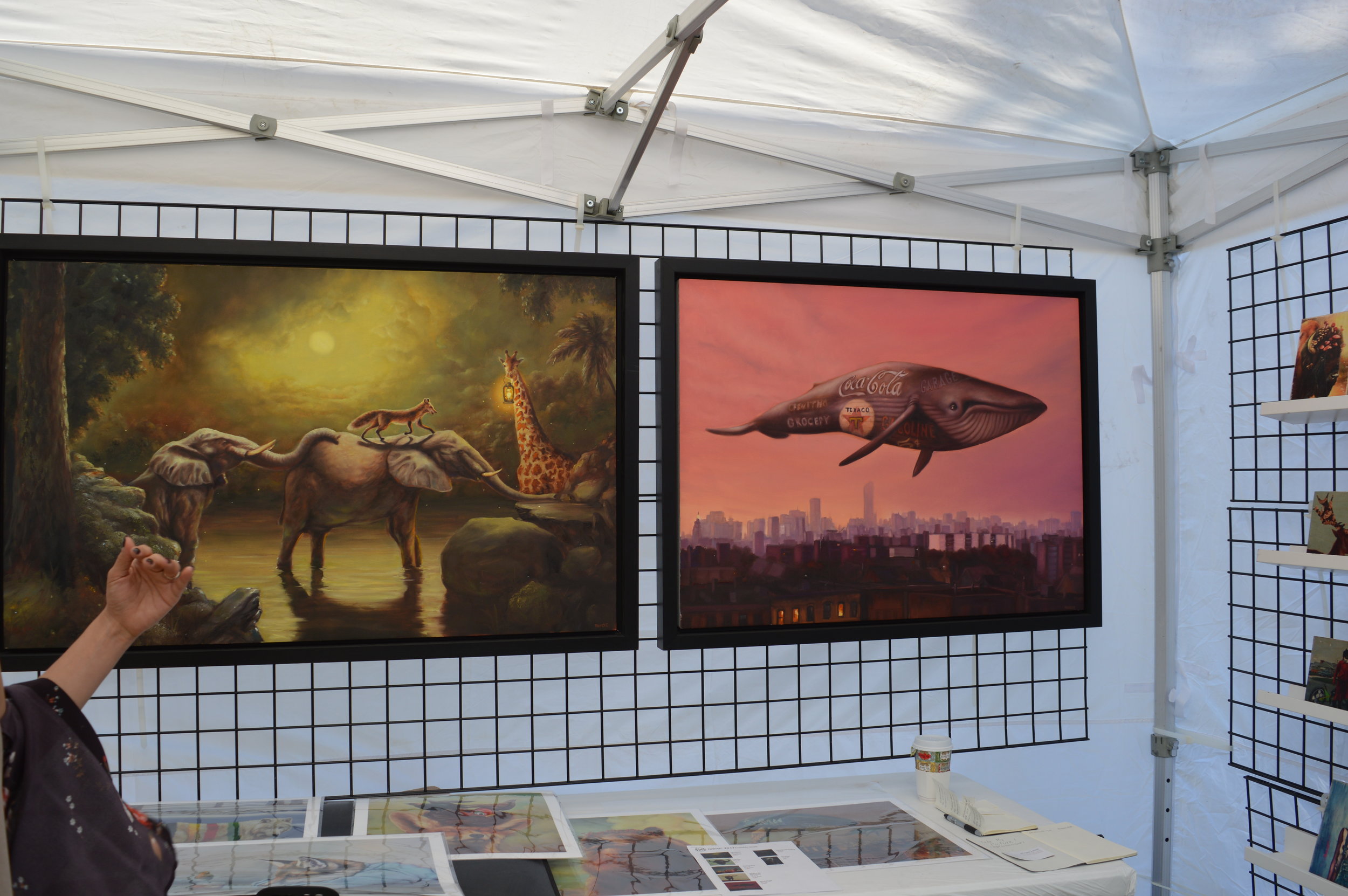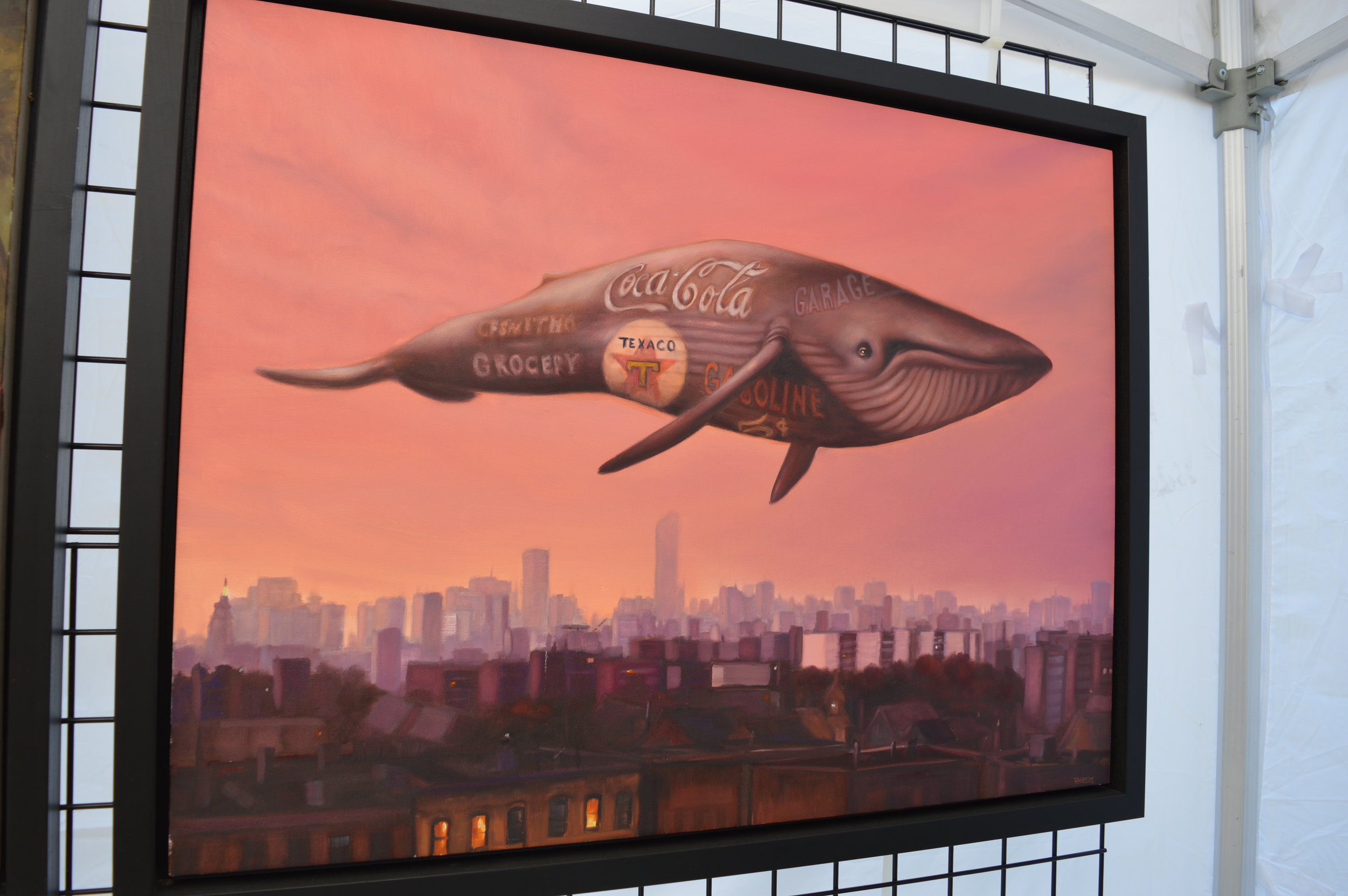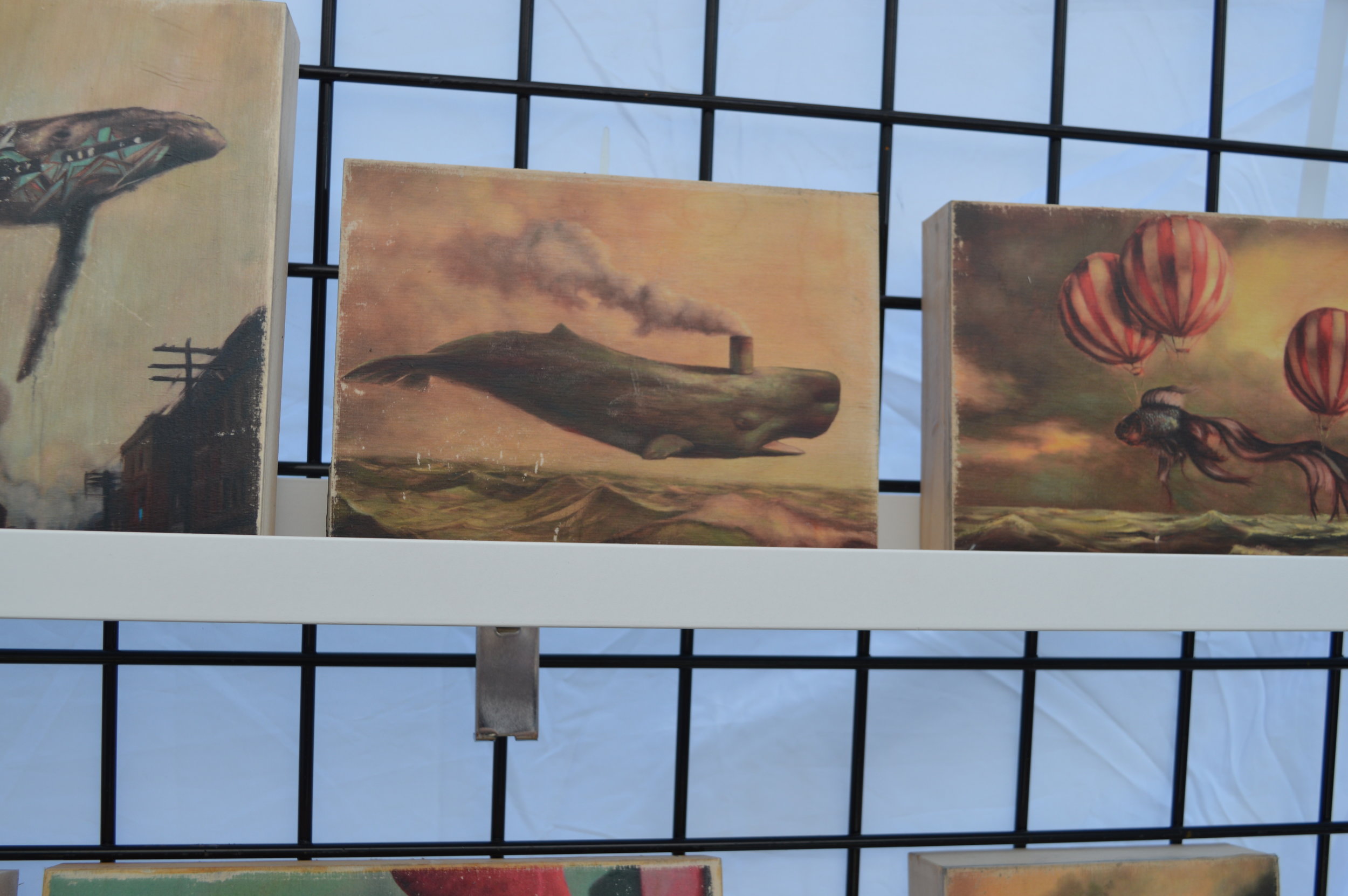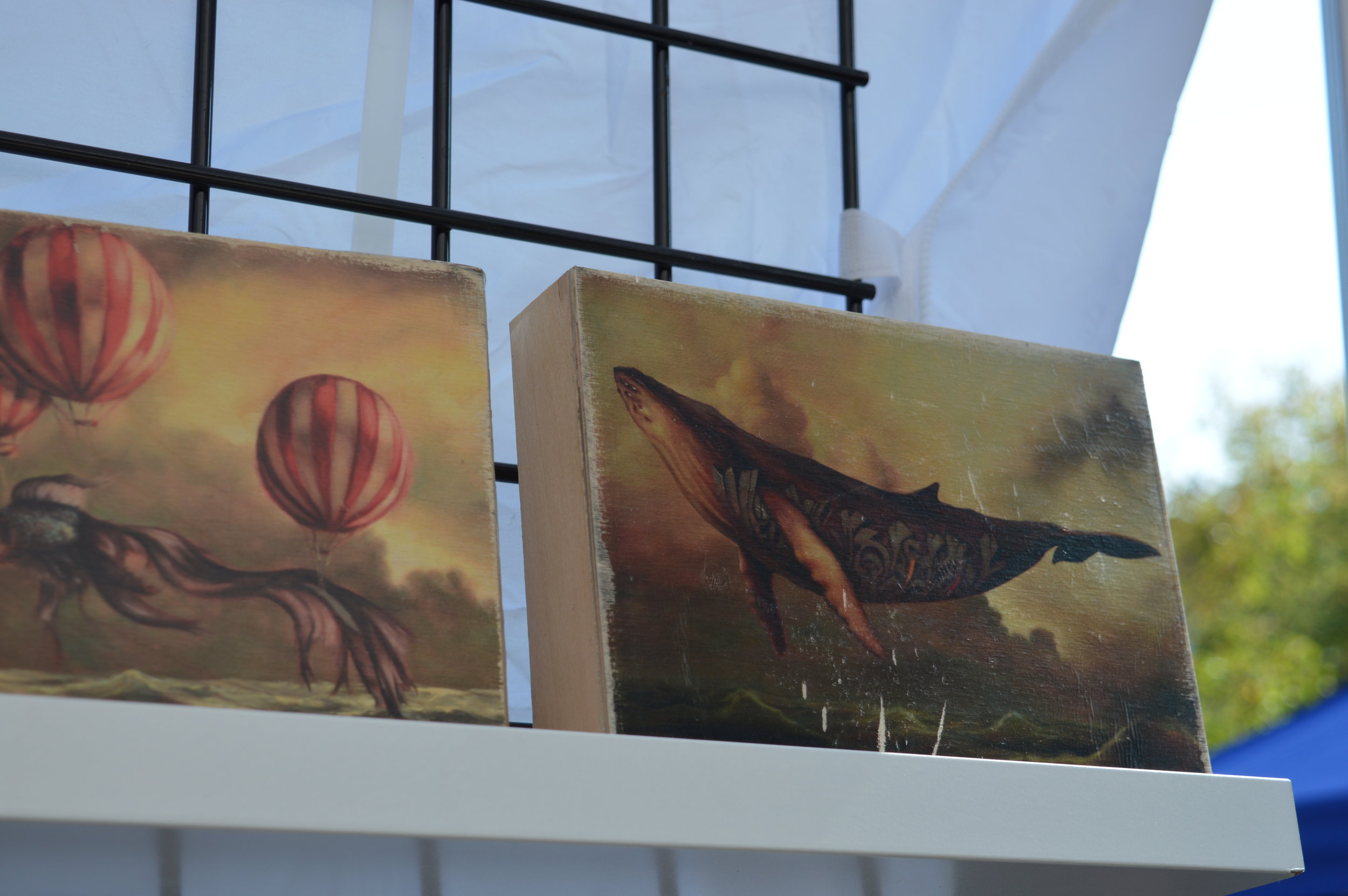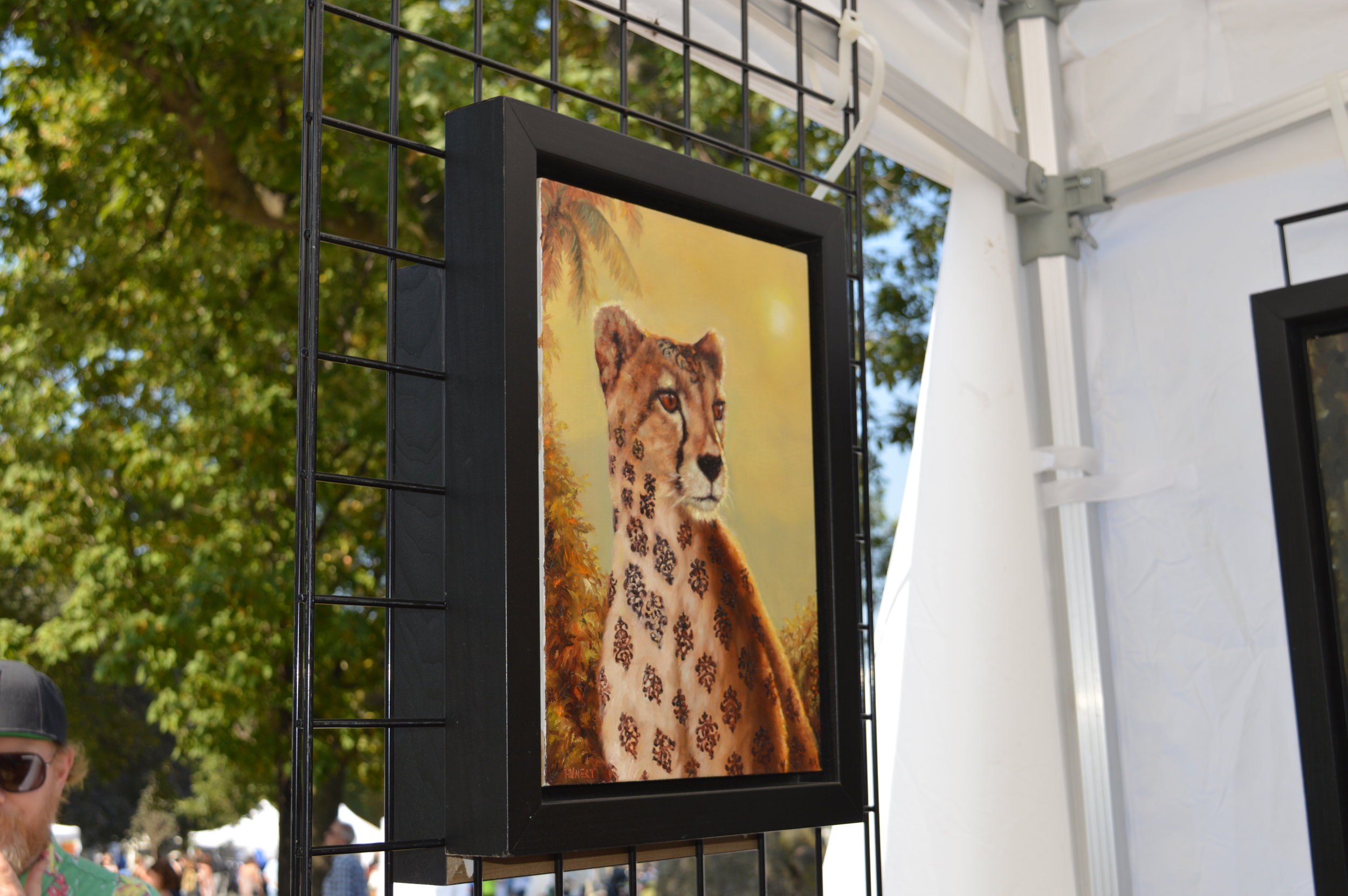 I have seen Ahnert's work at The Artist Project previous to this show, so I instantly recognized it. It is a challenge to make recognizable work when painting animals since so many artists do it, so hats off to this creator! Much like Hilferink, he presents narratives, but narratives that are humorous, fun and playful. They touch on the human-animal connection and explore themes of emotion and reflection.
On occasion I create artwork presenting animals with humans, using them as metaphors to explain human behaviour, so this caused me to connect with his themes. I was especially attracted to the oil paintings of whales, where most are shown swimming or flying in the sky. The whales have an industrial feel with their graffiti, trademark logos and clues of humankind inventions and actions on their bodies, as if we as humans have claimed them as our property.
These paintings have a mystical feel and definitely transport me to another world. Overall I love the surrealism aspect, as I believe animals to be the perfect expression of our primitive and subconscious desires.
Check out more: http://mycanvas.ca/
3. ERIKA SHRESTHA
This artist made my list because
1. Her work was different from anything I had seen at this exhibition.
2. Her work reminds me of one of my favourite artists: Wangechi Mutu
3. It incorporates aspects of collage.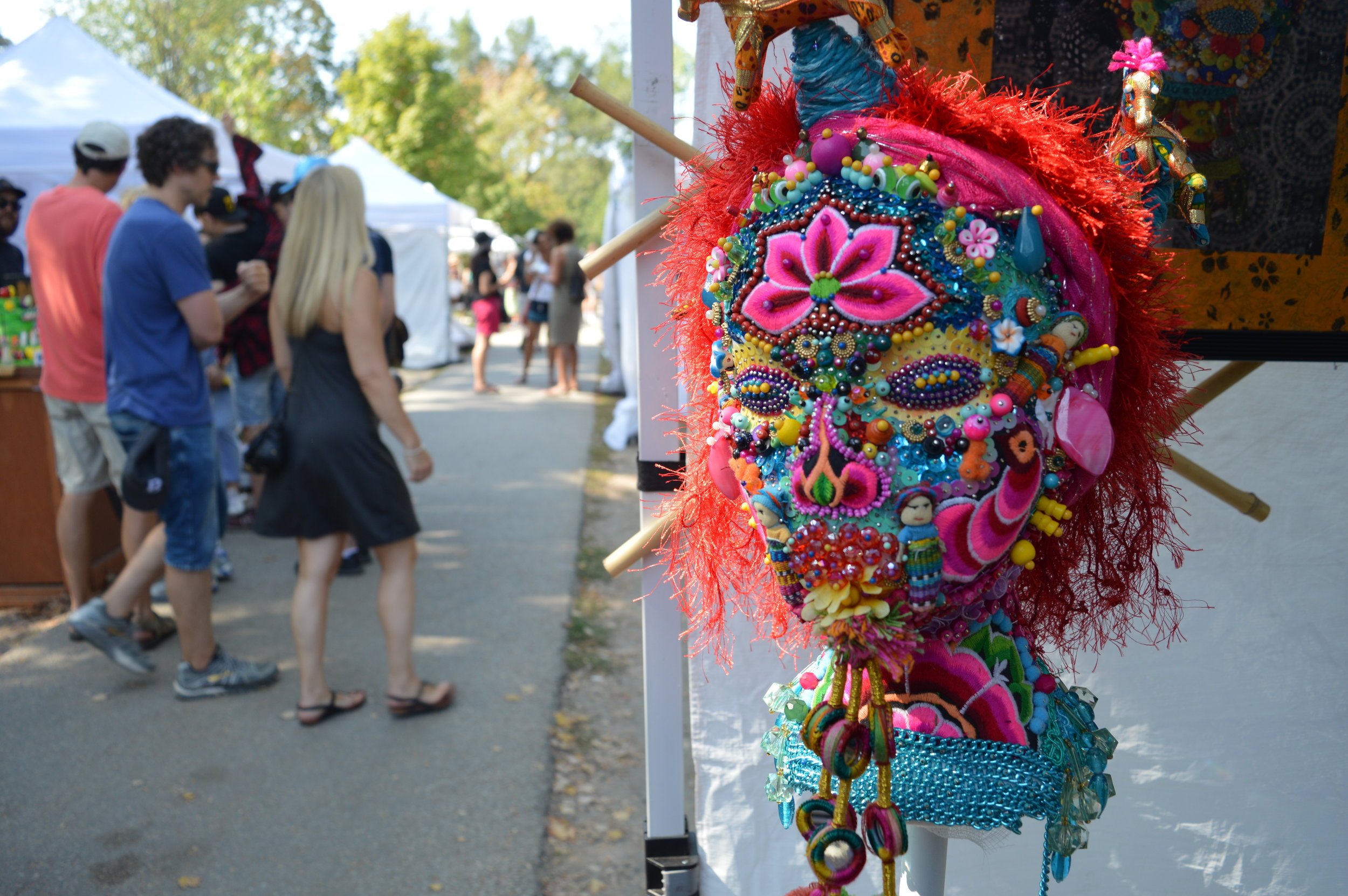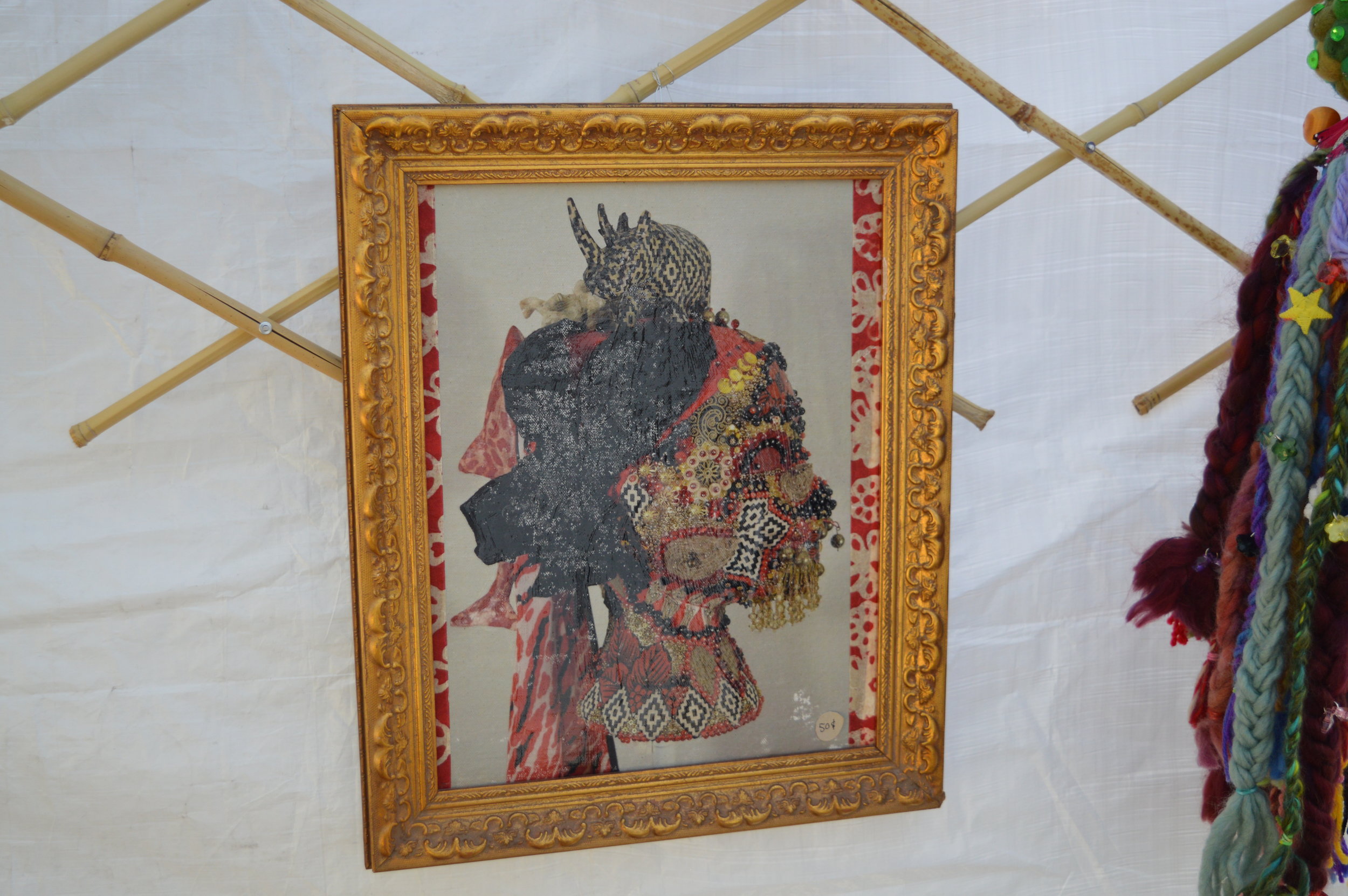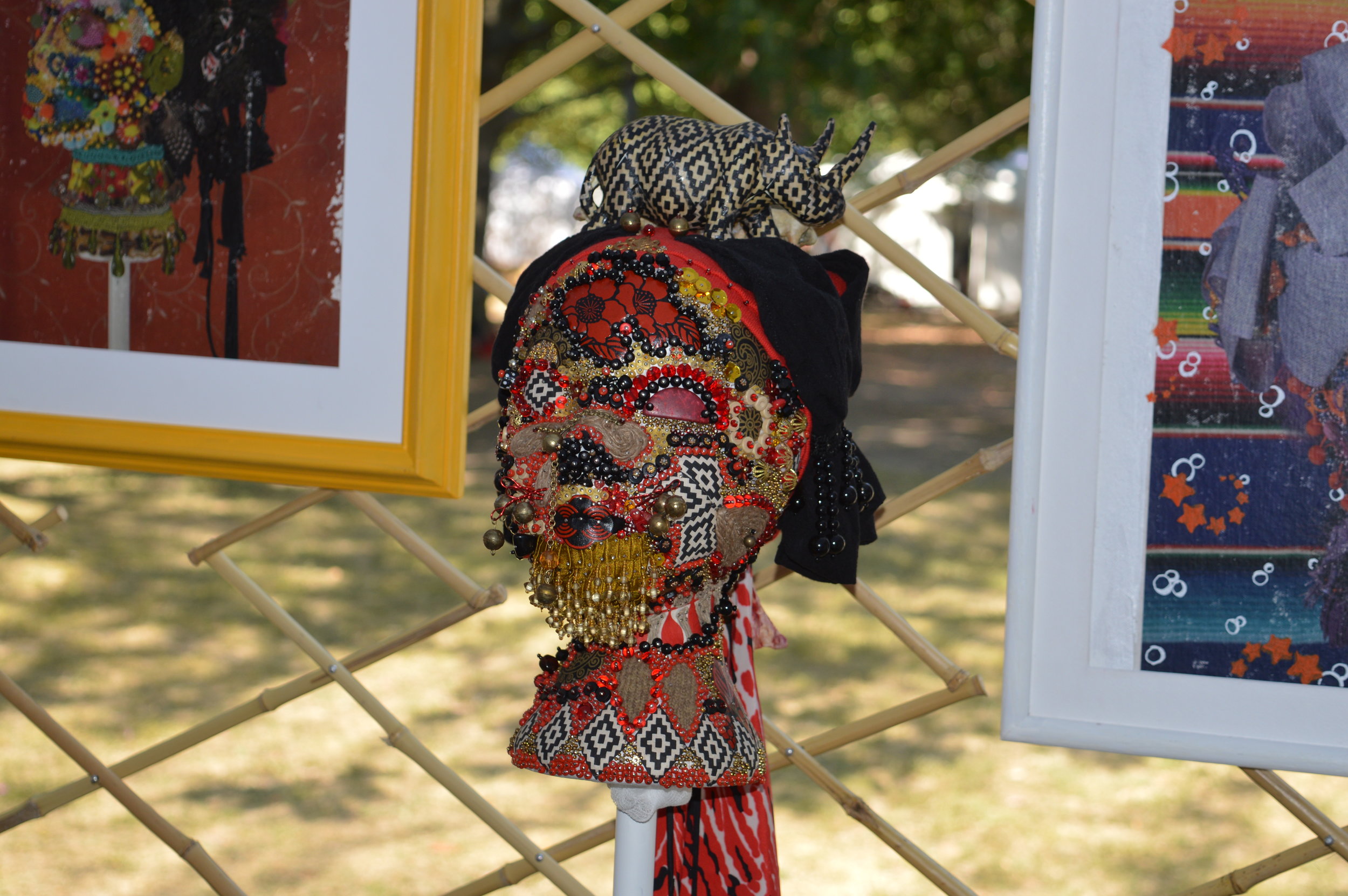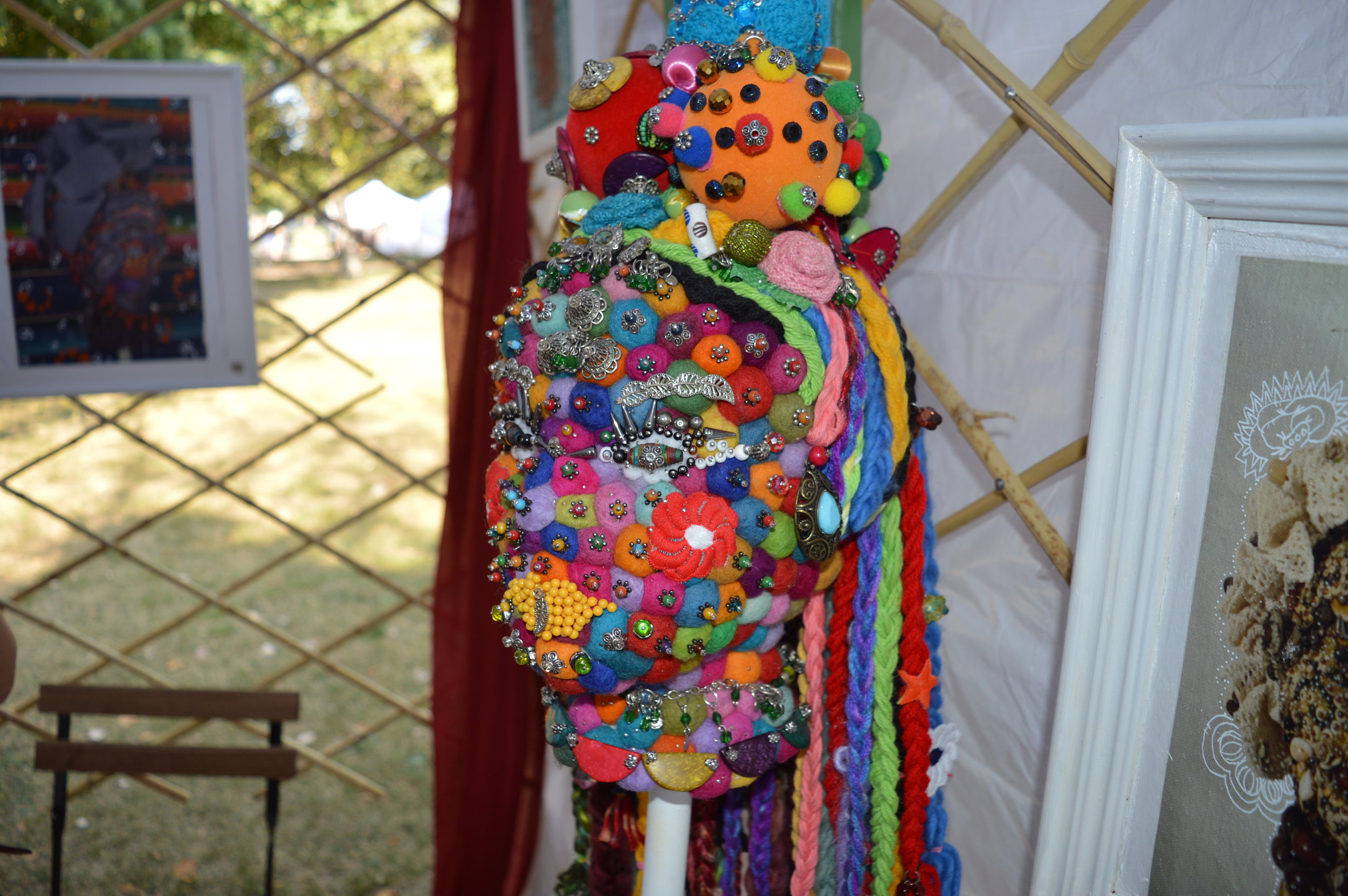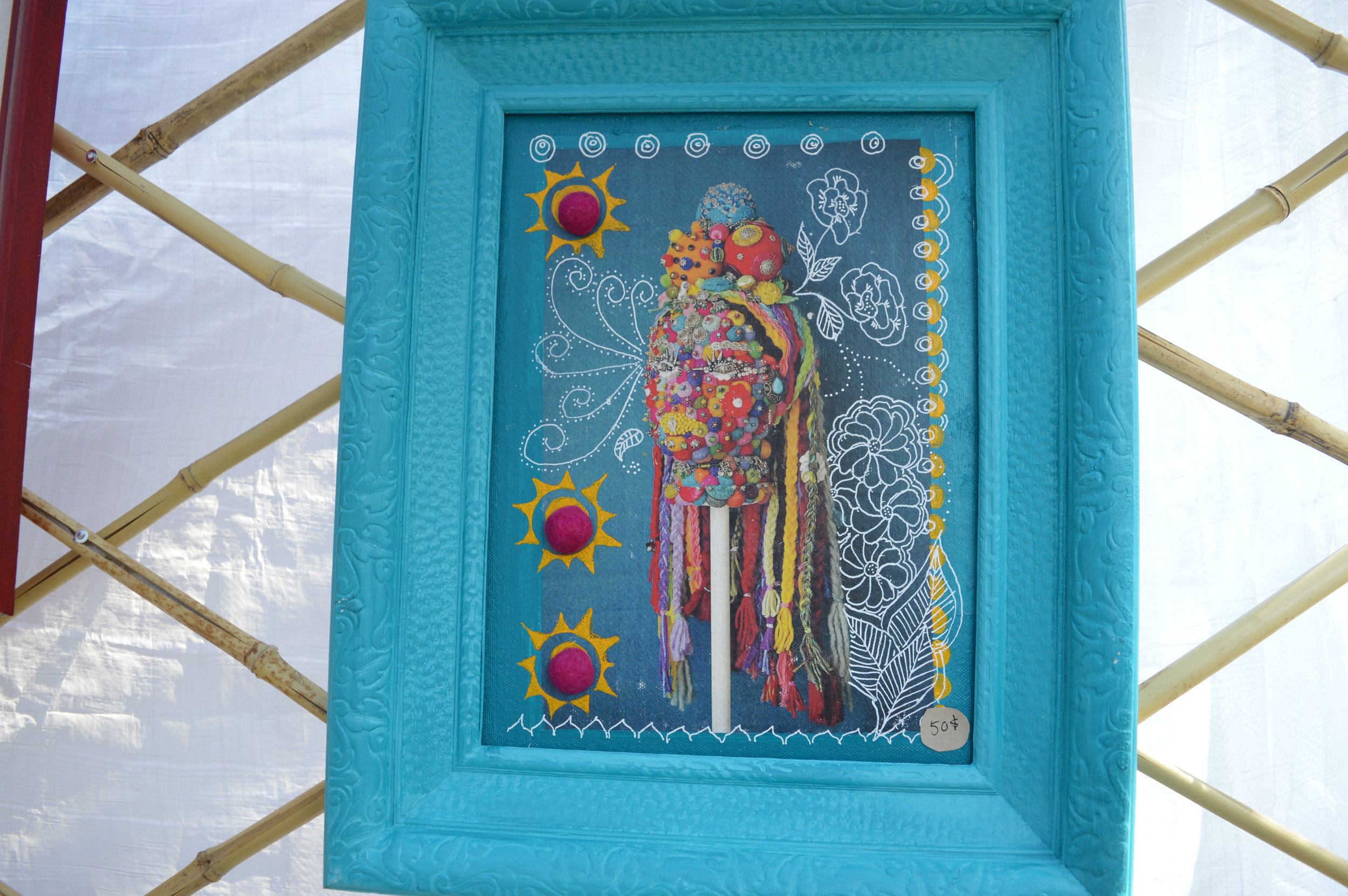 On display was her Selfie Stick Series, which were mannequin heads covered with found materials (ex. beads, sequins, string). They are frightening, yet strikingly beautiful. Her work explores the idea of absurdity and beauty inhabiting the same space. Shrestha states, "The impetus for the heads was a desire to create identity through the use of found objects. The idea of hybrid, the weaving together of culture and society through using bits and pieces of pre-owned objects represents our way of recycling ideas, using the old to inform the new."
My take away from her work was an outlook on the social society we live in today and a reflection of how we view ourselves, especially through social media.
I think her work perfectly captures the frightening aspect of our obsession with beauty and the fabricated self we present to the world, while providing the viewer with the opportunity to appreciate the intricacy and details of each object added to the face.
"These heads represent us all, we are all hybrids, the self is a shared identity."
-Shrestha
Check out more: https://www.erikashrestha.com/
....................................................................
Overall I really enjoyed this outdoor exhibition and will definitely be keeping tabs on new work these artists will be creating! I am done with outdoor art shows for the summer, but am in the process of creating new work for my 2018 shows. Check out my most recent collages to see the similarities between me and these fantastic artists I have chosen as my top 3.
Thanks for reading and Happy October!